Mid Anglia Light Sport Aviation offer full training on both traditional 3-axis and weightshift microlights. Use the drop down menu or click on the picture to find out more about our aircraft.
Ikarus C-42 (3-axis microlight)
Seated side-by-side with a central 'joystick' between you and the pilot, equipped with an effective heater and comfortable seats, getting comfortable in the C-42 will feel much like sitting in your car. As such no special clothing is required; the view however is rather better!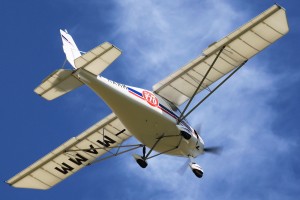 P&M GT450 (weightshift microlight)
Seated in Tandem, wearing helmet, flying suit and gloves, the experience of flying in the GT450 is more like riding a motorcycle than driving a car. You'll feel the wind and temperature change as the aircraft manoeuvres and the view is simply stunning; with no cockpit in the way you have a 360° view horizontally and can look straight down to the ground below!